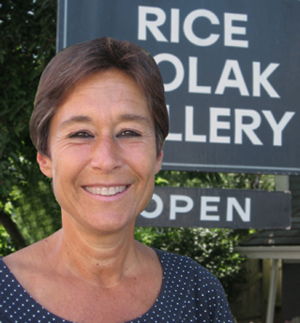 As an artist who exhibits in a gallery, I've wondered what it's like to be the art dealer. So I persuaded Marla Rice to answer a few questions:
What does she look for in work she's considering for the gallery?
"Above all it's the quality of the work. I'm interested in diversity more than subject matter or style. I tend to seek out an artist after I've become acquainted with their work or if a collector who knows my taste recommends someone to me."
Then there's the pragmatic demands of the gallery itself:
"I get hundreds of submissions a year. It's important that the work doesn't compete with other work that I show. I might love, love, love someone's art work but it may deserve its own space, its own walls and does not integrate well in the gallery."
More personally, what does she look for in a piece of art she'd want to own?
"The answer is really simple. I look for something that makes my heart thump. I know when a piece just sings. There are some favorites that come to the gallery that I'm sure I can place, but I still need to own it. It's not always about the money".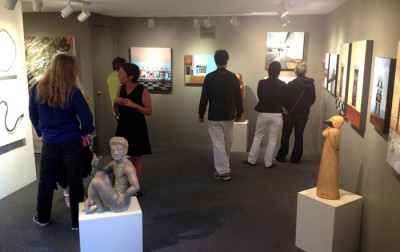 Could she describe the cons of being a gallery owner?
"Business in Provincetown is so summer-dependent, there's an enormous amount of pressure to make money in a short amount of time. I literally have a knot in my stomach until I see things selling.
"And the responsibility I feel to 30 plus artists … I may be having a great year for one artist and not another and that really weighs on me."
And the pros?
"Going into artists' studios, especially when it's someone whose work I know I'll love. I love to see where they work, how they work. It can also be a little intimidating. With new artists I worry about how am I going to handle it if I don't like what I see?
"It's also great to support artists and to make a living doing so. Getting to know artists over these 25 years & seeing artists come into the gallery and get inspired by other artists. Feeling deeply connected with people who've been collecting from me year after year is a huge reward.
"Every single day when I unlock the gallery door I'm excited. It's important for my health!
"Of everything I've seen in life I've never seen people as happy as when they have just bought a piece of art. Couples kiss and walk out holding hands."
Starting in the early 1980s Rice, along with other local artists, launched The Hopkins Group Gallery, a cooperative in Wellfleet. When that gallery ran its course Rice continued in the business of selling art.
"I was better at it and more interested in the business side than the others. I'm basically self-taught. I can't say I consciously chose to sell art – it chose me.
"My tastes grew and changed and got more sophisticated. I had a partner, Richard Polak, who helped get me where I am today, together we opened Rice Polak Gallery in Provincetown. After he retired I got to make all of the decisions. Collaboration still goes on but now it's working with the artists."
Rice sees the benefits of staying power:
"I have built strong relationships with the gallery's collectors. I so look forward to seeing these friends year after year. Kids now grown are collecting art like their parents did."
"It's also wonderful watching artist's work grow and change over the years."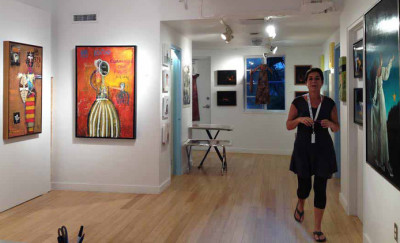 How have the art and business trends over time affected her choices?
"The level of art has gotten so much better. It's mainstream now; more galleries, art schools, more artists, more collectors.
"I do more and more business online and I'm reaching out more. I had a pop-up gallery in Boston before it was a trend.
"I've participated in art fairs in Miami, LA & NYC. This year the gallery will be at the SCOPE Art Fair during Art Basel week in Miami.
"These art fairs have enhanced the gallery and given opportunities to artists. I'm a big fish in a little pond in Provincetown. There it's the opposite; let the country bumpkin be with the big guys."
Artists have been saddled with a whole mantle of personality clichés. They are accused of being more:
Sensitive, eccentric, spiritual, controlling, reality-challenged, neurotic, promiscuous, misunderstood, ambitious, arrogant, inscrutable, verbose, obtuse, narcissistic, necessary, superfluous, original, rebellious, child-like, impassioned, lazy, sexual, asexual, distracted, alcohol-dependent, party-on dependent, nihilistic, irresponsible, obsessive, inspired, holy, deluded, left-handed, leftist, focused, poor, procrastinating, truth-telling, manipulative of the truth, visual, visionary…
Does she find any of those true?
"All of the above."
Then how does she deal with artist's personalities?
"I care a ton about an artist's personality. I'm very good at anticipating and being prepared because as I said, all of the above is true. I have 30 different relationships, there are no two alike. At times it makes me crazy but I value it."
Is there anything she wishes she'd done differently?
"I'm doing it differently every year. If I wish I'd done something differently, I do it.
"The thing I wish more than anything in the world? I wish I could take an unknown artist and make them famous."